Navigation: Home Products Customer Support
Instruments for Discovery, Detection, and Determination
Company Profile
Symphotic TII Corporation is dedicated to providing high quality instruments and tools for research, engineering and industry. We also are committed to providing the highest level of customer care. All of our products are directly related to our extensive experience in underwater applications, spectroscopy, and imaging technologies.
Much of our work is the sales, service, and support of Saab Seaeye ROV systems. Our customers include universities, research facilities, commercial dive companies, the offshore oil and gas industry, law enforcement, military, and fire department first responders. These same customers also come to us for our comprehensive line of sonars, underwater cameras, and other underwater systems.
In addition, we are an authorized representative for Thermo Fisher Scientific Cameras and Imagers. Soon after founding the company, we introduced our first product: the AquaRAD radiation tolerant underwater camera, which is based on this technology. These cameras are being used at nuclear energy and research facilities world-wide.
Our experience with underwater deployment of radiation tolerant cameras has brought us many customers who require underwater imaging and robotics technology. Through our exclusive relationships with major manufacturers, we now offer a full line of underwater products for inspection, search and recovery, analytical measurement and research. Imaging and research products including imaging and scanning sonar, underwater cameras, remotely operated vehicles and (ROVs).
Our work with the nuclear power industry and our experience in spectroscopy has led to the introduction of the award winning InSITE Analyzer system in use world wide for nuclear power plant inspection as well as standoff explosives detection. The InSITE Analyzer has also been used in remote archeological surveys.
Overseas commissioning of a Saab Seaeye Falcon ROV under contract with the U.S. Navy for counter IED search

Deploying an AUV for seabed

mapping in Reykjavik Harbor

Installation of a tunable laser for

Photoacoustic Tomography at the

M.D. Anderson Cancer Research Center

Chris Roper, Sales Manager for

Saab Seaeye North America, exhibits a Saab Seaeye Cougar XT in Nova Scotia

(CHRISTIAN LAFORCE / ChronicleHerlad Staff)

The InSITE Analyzer wins the 2006

Nuclear Energy Institute

Top Industrial Practices Award
About our name:
Symphotic TII : (sĭm·fō·tĭk T·I·I)
When different musical instruments play together it is a SYMPHONIC orchestra. When different organisms live together in a way that is mutually beneficial is called a SYMBIOTIC relationship. The PHOTIC ZONE is the zone in water where sunlight can penetrate and life can be created through PHOTOSYNTHESIS.
Light is associated with knowledge. The University of California uses the motto "Let There Be Light" as a reminder of the importance of creating knowledge.
We created the word "SYMPHOTIC" to represent our commitment our partners and clients together to create knowledge through the use of innovative and valuable scientific and industrial instruments and techniques.
The work of Symphotic TII Corporation is to bring people--our customers, staff, partners and investors-- and science and technology together to create mutually beneficial knowledge. We specialize in visualizing environmental, physical, chemical, and biological phenomena that cannot be seen or measured without special tools. Starting with our first two products, an underwater camera for use radiation environments and a laser system four use in photo-acoustic tomography imaging research, we have expanded our product offering to robotics and ROVs for delivering tools and instruments to inaccessible locations. Our motto is "Take a Closer Look".
Our technology partners include Saab Technologies, Saab Seaeye, Kongsberg Maritime and Clearwater HydroAcoustics. Our partnerships with our domestic and international manufacturers of underwater instruments, imaging and laser technologies, brings us special capabilities for both the laboratory and to remotely deploy instrumentation in hostile environments.
We are a California corporation with our support center located in Camarillo, California: the center of the "101 technology corridor", a region of oceanographic, oil and gas, nanotechnology, life sciences, semiconductor and photonics innovation located between UCLA and the San Fernando Valley in the east, through Santa Barbara (including UC Santa Barbara) and reaching to San Luis Obispo in the northwest.
Our international staff have lived and worked in a number of countries throughout the world and share a wealth of experience in various applications.
We are also closely associated with the international offshore energy extraction industry and oceanographic research communities.
To Learn More: We want to hear from you! Please contact us be phone or e-mail: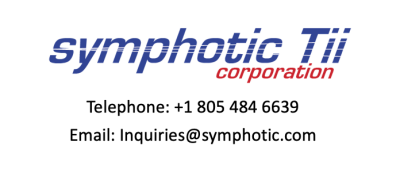 Postal address

Symphotic TII Corporation
880 Calle Plano, Unit K
Camarillo, CA 93012 U.S.A.