The InSITEtm Remote Raman Analyzer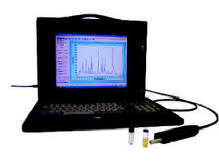 The InSITEtm Remote Analyzer
NEW Hand portable unit. Call now for more information.
Winner of the Nuclear Energy Institute "Top Industry Practice" award
The InSITEtm Spectrographic system for in-situ analysis in nuclear power plants and other difficult locations.
Reactor coolant pressure boundary leakage in pressurized water reactors leaves a white boric acid buildup that is corrosive to low alloy and carbon steel components. However, not every white deposit found in a PWR is boric acid, and identification of unknown deposits can be crucial in determining if an active leak exists. Current methods for identifying the source of unidentified deposits require a sample to be removed and analyzed using radiometric or chemical techniques. This approach is time-consuming, requires potential radiation exposure to personnel, suffers from false positives, and may not be possible in locations that are inaccessible or where only small amounts of deposits exist. The InSITE uses a new technique based on Raman spectroscopy that allows in-situ analysis and positive identification of boric acid residue. This technique can also determine the state of hydration of the boric acid, which will help understand the nature of the source of the residue. The spectroscopic analyses of other common materials that may be mistaken for boric acid can identified and eliminated. The technology applications to nuclear power plants has recently been gaining popularity with its ability to be applied in the field without extensive ladders or scaffolding, lower dose, and 100 percent sample identification reliability.
Is it a leak?
Key Benefits
Simple operation and deployment for in-situ analysis
Positive identification of the chemical content of difficult to sample deposits--distingushes between primary and secondary coolant spills without removing samples from containment
Results in huge cost savings and shorter outages
For a detailed product description and a copy of our technical paper describing the use of the InSITE analyzer in PWRs, please fill out the information request form below. You may also be interested in our radiation tolerant cameras.
---